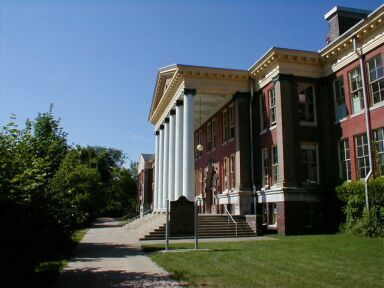 consists of:
Heritage Hall
(001)
Current Use:
WMU Alumni Center
The original shell of Western State Normal School administration building, which would later be called East Hall, was remodeled in 2015 to become the University's Alumni Center.
Part of the group Heritage Hall
Facility Information
for Heritage Hall
Bronco Fix-It request for:
Directions:
From Stadium Dr, take Oliver St. E. Then turn left on to Oliver Ln. Turn left on to Oakland Dr. and it will be on the right side (Parking Lot 1).
Latitude/Longitude:
N42.286206,W85.597001
Visitor - Parking Lot 1 or 2
Employee
- Parking Lot 1 or 2
(signage may change as necessary without notice)
Building Coordinator:
Sonja Dotson
sonja.f.dotson@wmich.edu
387-8775